We sincerely congratulate you all on the Great National Holiday Nauryz! Nauryz is a holiday of unbreakable unity and inexhaustible prosperity.
May the harbinger of good, the beginning of the new year – Nauryz bring prosperity to our homeland! This holiday is one of the main veins of our people, our independence. In this regard, scientists and specialists of the Research Institute of Biosafety Problems and the Biopharmaceutical Plant of OtarBioPharm LLP celebrated the Spring Holiday – Nauryz on March 20, 2023.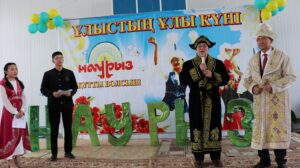 Yurts decorated in the national color were organized on the territory of the erected festive town, the House of Scientists. A rich table of national cuisine was set at the festival. Nauryz-kozhe, pilaf and meat dishes are prepared.
The celebration of the great holiday of the Kazakh people awakens the patriotic feelings of our employees. The national holiday of the Kazakh people – Nauryz meiramy – familiarization with the traditions and customs of our people, sincerity, morality, nationality, transformation and renewal of all living things and demonstration of Kazakh traditions and customs. During the celebration, dances and songs prepared by the staff were presented. Competitions were organized in such national sports as "Koskar koteru (squatting with a ram on your shoulders)", "Arkan tartu (tug of war)" and other events dedicated to national traditions and customs.
Kazakh dance is the best of the arts, reflecting national traditions and customs. Elegantly smiling girls and broad-shouldered strong guys who performed at the celebration of Nauryz were awarded the admiration of the audience and loud applause.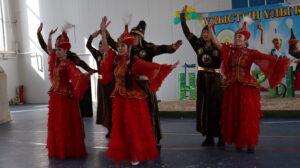 At the end of the celebration of Nauryz, the participants were presented with prize gifts, as well as diplomas from the director of the Institute Yergali Orynbasarovich. And the guests of the event left the House of Scientists in high spirits.