On August 26, 2022, a solemn event dedicated to the Constitution Day of the Republic of Kazakhstan was held at the Research Institute for Biological Safety Problems.
The meeting began solemnly with the anthem of the Republic of Kazakhstan. Professor Abdurayimov Ye.O. and Chairman of the Council of Young Scientists Tulendibayev A.B. delivered a congratulatory speech, and reports were also heard. Several reports were heard at the meeting, including Umuraliyev B.K., who have made a report "Tauelsizdiktin tiregi – ata zan". In his report, the young scientist noted that the Constitution guarantees citizens basic rights and freedoms, thanks to which the country is striding confidently along the path of stability, harmony and prosperity.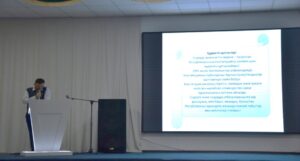 Report of the young scientist Umuraliyev B.K.