Prominent statesman and politician of Kazakhstan Berdibek Saparbayev passed away on June 10, 2023 at the age of 71.
The farewell ceremony, held in Almaty, at the Kazakh State Academic Opera and Ballet Theater named after Abai, was attended by relatives and friends, state and public figures, friends and thousands of people. The President of the Board of the NJSC "National Academy of Sciences of the Republic of Kazakhstan under the President of the Republic of Kazakhstan" K. Zakarya, the General Director of JSC "National Holding "QazBioPharm" Ye. Abdurayimov and the Acting General Director of the RSE "Research Institute for Biological Safety Problems" of the Ministry of Health of the Republic of Kazakhstan A. Kerimbayev came to pay their respects to the outstanding figure of our country. The meeting bade Berdibek Mashbekovich final farewell.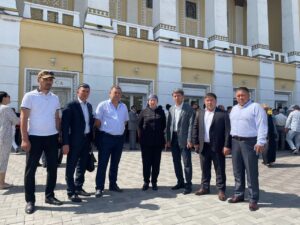 The famous politician made a great contribution to the formation and development of Kazakhstan. For many years, Berdibek Mashbekovich worked in the most critical areas of work. At various times, he headed five regions of the country.
It is impossible to forget his selfless contribution to the fight against coronavirus infection. As Akim of Zhambyl region and then heading the Board of Directors of JSC "National Holding "QazBioPharm" Berdibek Mashbekovich did everything possible for the establishment and development of the first large biopharmaceutical plant "OtarBioPharm", which currently produces a vaccine against coronavirus and other topical infectious diseases of humans, animals and birds. He organized the construction of three new 60-apartment buildings for employees of the Research Institute for Biological Safety Problems and the Biopharmaceutical Plant "OtarBioPharm".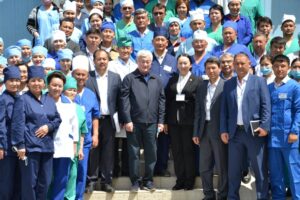 Cherished memory of Berdibek Mashbekovich will remain in our hearts as a talented leader with outstanding human qualities.