On April 02, 2021, Akim of Zhambyl region Saparbayev Berdibek Mashbekovich, accompanied by representatives of akimats of Zhambyl region and Kordai district, visited the RSE "Scientific Research Institute of Biological Safety Problems" of the SC MES RK.
During the working visit, the final stage of construction of the first 60-apartment building, as well as the progress of construction of the second and third houses for employees of the Institute were presented to the Akim of Zhambyl region.
Further, the delegation headed by the Akim of Zhambyl region visited the territory of the Biopharmaceutical plant, where Deputy Akim of Zhambyl region Zhazylbek Ulan Yerkinuly and General Director of LLP "Ka-Stroy LTD" Esengeldin Saken Esengeldievich presented the process of installation of technological equipment.
To summarize the results of the working visit, a meeting was held under the chairmanship of Akim of Zhambyl region Saparbayev Berdibek Mashbekovich with the participation of representatives of the Akimat of Zhambyl region, Akimat of Kordai district, SRIBSP, LLP "Ka-Stroy LTD, LLP "BazisDorStroy", LLP "Agrospetsstroy", LLP "DAKO-Engineering", the 40th military base "Otar" and LLP "Tenre-Aerolife".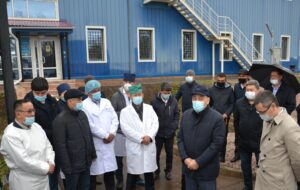 Following the meeting, the Akim of the region gave a number of instructions to representatives of the present organizations and determined the deadlines for their implementation.