On June 23, 2022, an online meeting was held between the scientists from the Scientific Research Institute of Biological Safety Problems (Kazakhstan) and scientists from Henan Agricultural University (China). The meeting was organized by the Consulate General of China in the Republic of Kazakhstan.
Dr. Longxian Zhang presented information about the laboratory "Introduction and Development Strategy for Longhu Modern Immunology Laboratory". He also spoke about the development and release of vaccines against Covid-19 for humans, bird and animal diseases. The Chinese side presented its capabilities for the development of new, relevant drugs, as well as their production and sale.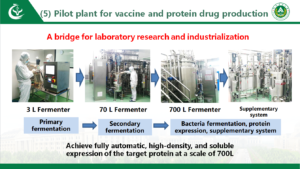 During the online meeting, an agreement was reached on cooperation and the signing of a Memorandum between the Research Institute of Biological Safety Problems and Henan Agricultural University to establish partnerships and develop long-term, effective and mutually beneficial cooperation between the Parties aimed at implementing joint projects to organize the production of vaccines for medicine and veterinary medicine.