Scientists and specialists of the Research Institute of Biological Safety Problems and the Immunobiological Plant of "OtarBioPharm" have celebrated Nauryz meiramy – the holiday of spring renewal.
On this joyful day, Daulet Rustem Rysbayuly, deputy akim of Zhambyl region visited us and congratulated with Nauryz, the bright holiday of spring and renewal. He also wished to the group well-being, success, new scientific and industrial achievements!
Our employees were able to design yurts with National Crafts of our people. On the day of the holiday, a rich dastarkhan was laid with national dishes and the main ritual dish of in Nauryz the Nauryz kozhe was served. Also, on the table were presented national dishes such as plov, baursak and others. There is a belief that the main goal of such a generous celebration of Nauryz is to encourage prosperity and success in the coming year.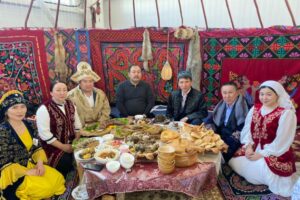 The holiday was marked by theatrical performances, such as "Ata osieti", "Dialogue of Zhanibek khan and Zhirenshe sheshen", "Azhe tarbiesi", "Kuda tusu, syrga salu", "Kyz uzatu", "Betashar, kelin shai", "Tos tartu, esik korsetu", "Kyrkynan shygaru, besikke boleu, tusau kesu". The guests also enjoyed with culinary tournaments, where they tasted traditional Kazakh cuisine.
Nauryz meiramy would not be held without such sports as "Kol kures"," Arkan tartu", in which not only boys, but also girls took part and showed their best skills. In addition, during the holiday, a real "Tusau keser" ritual was carried out and found a positive trend.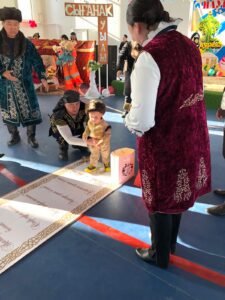 At the end of the Nauryz meiramy, one of the oldest and most respected people among the participants gave us a great bright blessings, so that from year to year our well – being would not leave us.
It is symbolic that the message of the Head of State K.K. Tokayev "New Kazakhstan: the path of renewal and modernization" was released on the eve of the Nauryz Meiramy holiday, which is a symbol of renewal.
In this regard, we would like to say that scientists and specialists of the "Research Institute of Biosafety Problems" and the immunobiological plant of "OtarBioPharm" sincerely support the renewal and prosperity of our holy Kazakhstan!