On May 29, Astana hosted the International Forum "Lessons of the Pandemic: the Experience of Kazakhstan". At the Forum, participants discussed the prospects of the biopharmaceutical industry and the experience gained after the pandemic.
The forum began with the presentation of the book "QazVaC: ТАЙТАЛАС". The book "QazVaC: ТАЙТАЛАС" is dedicated to the professionalism of domestic scientists – creators of the coronavirus infection COVID-19 vaccine. This is a documentary journalistic publication with a circulation of one thousand copies. It describes in detail the clinical trials, certification and production of the vaccine. Kazakhstan has become the fifth country in the world to develop its own vaccine. Today, more than 5 million people have been vaccinated with the QazVac vaccine.
The official presentation of the book was attended by the first heads of a number of government agencies, international scientific organizations, scientists, prominent public figures and media representatives.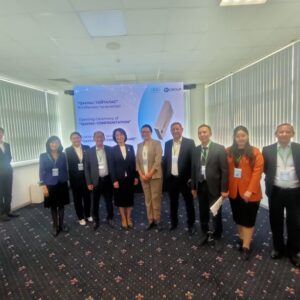 Deputy Prime Minister of the Republic of Kazakhstan A. Kulginov, President of the Board of the NAO "National Academy of Sciences of the Republic of Kazakhstan under the President of the Republic of Kazakhstan" K. Zakarya, Director General of JSC "National Holding "QazBioPharm" Ye. Abdurayimov, Minister of Science and Higher Education of the Republic of Kazakhstan S. Nurbek, Minister of Health of the Republic of Kazakhstan A. Giniyat, Deputy of the Senate of the Parliament of the Republic of Kazakhstan A. Alnazarova and other scientific figures of the country and abroad delivered a welcoming speech.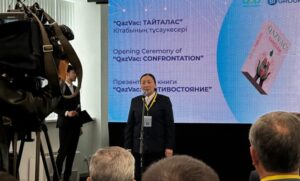 "The team of the book developers personally met with scientists, managers and presented the answers to the questions to the readers: how was the QazVac vaccine developed? What obstacles had to be overcome? How was the domestic vaccine manufacturing plant built? What is its meaning? The pandemic has ended, but the work of scientists and medical workers in the fight against the pandemic should not be forgotten, the book is being published for this purpose," said Kunsulu Zakarya.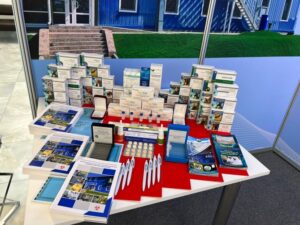 Also at the QazBioPharm site, an exhibition of scientific achievements of the Research Institute for Biological Safety Problems and other subsidiaries of the Holding and projects of business structures that sponsor the event was presented.
Source: https://24.kz/ru/news/social/item/602393-qazvac-tajtalas-vyshla-kniga-o-sozdatelyakh- kazakhstanskoj-vaktsiny-ot-kovida
https://biocenter.kz/novosti/novosti-nauki/914