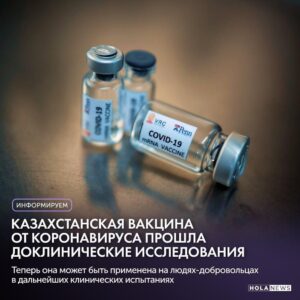 Preclinical studies of the Kazakhstan inactivated COVID-19 vaccine developed by the Research Institute for Biological Safety Problems (RIBSP) of SC MES RK on the basis of the pharmacological testing laboratory of the territorial branch of the National Center for Expertise of Medicines and Medical Devices (NCEM) in Almaty have been completed. According to the ministry, the specified vaccine was created on the basis of a virus strain isolated from patients in Kazakhstan. MIA "Kazinform" and the press center "Sputnik Kazakhstan" reported this on their websites.
"The vaccine has been thoroughly tested for safety and toxic effects on the body of animals when administered in large doses. In addition, within the framework of this study, the absence of an allergic reaction and irritation at the injection site was established. In addition to general research methods, the level of safety of the vaccine was confirmed by hematological and biochemical blood parameters. The impact of the vaccine on the functioning of the internal organs of animals was also assessed" the statement reads.
As noted, the results of the preclinical stage of the study showed that the domestic COVID-19 vaccine is not toxic and can be used in human volunteers in further clinical trials.
The press service of the National centre explained that all the experiments were carried out in the own vivarium of the NCEM on different types of experimental animals. The laboratory for pharmacological research has the status of international accreditation of the Slovak National Accreditation Service (SNAS) for compliance with GLP OECD and is the only laboratory in Kazakhstan to conduct bioequivalence studies.
Earlier, the World Health Organization (WHO) registered the development of Kazakh scientists and included it in the list of COVID-19 candidate vaccines, which are allowed for preclinical studies.
On August 1, 2020, it became known that the second Kazakhstani subunit COVID-19 vaccine of RIBSP was successfully registered on the WHO website as a candidate vaccine.
On July 26, 2020, 7 vaccine developers voluntarily tested the vaccine on themselves to ensure their own safety when working with a live virus.
In mid-October 2020, it is planned to enter the II phase of clinical trials on 200 volunteers who meet the WHO requirements. Phase II clinical trials should be completed in December 2020.