Kassym-Zhomart Tokayev's working trip to the Zhambyl region began with an acquaintance with the activities of the QazVac biopharmaceutical plant for the production of vaccines at the Scientific Research Institute of Biological Safety Problems, located in the village of Gvardeisky, Kordai district.
The President was shown a vaccine production line, laboratory equipment and mobile reactors.
This was reported on the official website of the Head of State www.akorda.kz.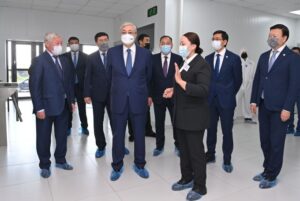 Photo illustration taken from open sources
General Director of the Institute Kunsulu Zakarya reported about the plans for the further development of the Research Institute of Biological Safety Problems.
The plant will produce immunobiological drugs in accordance with the international standard of good manufacturing practice (GMP), including vaccines against coronavirus infection, vaccines against influenza, tuberculosis, brucellosis, lumpy skin disease and other infectious diseases.
It is planned to produce between 30 and 60 million doses of biopharmaceuticals annually. The total cost of the project is 15.6 billion tenge.
Kassym-Jomart Tokayev was told that on September 16, industrial bottling was launched in the amount of 100 thousand doses.
Among the CIS countries, only Kazakhstan and Russia have established the production of vaccines against Covid-19.
In a conversation with the plant's employees, the President of Kazakhstan, noting the importance of the project, expressed confidence that the domestic vaccine would make a significant contribution to the fight against coronavirus and improve public health.
Photo illustration taken from open sources
– Congratulations to all of you, this is really a great achievement. This is a very necessary production for our country. The main work is done. We will continue to release next year. We will send this vaccine as humanitarian aid to Afghanistan and other Muslim countries. Our vaccine is gaining recognition in the world, for which I thank you. This is a very complex manufacturing process. It takes three to four years to launch such an enterprise abroad, and we were able to get the work started in 9 months. The state highly appreciates your work, the Head of State noted.
Photo illustration taken from open sources
We express our sincere gratitude to the President of the Republic of Kazakhstan Kassym-Jomart Kemelevich Tokayev for the support provided and fully assure you to fulfill all his orders!
Visit of President K.K. Tokayeva gives a positive incentive to the team for new discoveries and further development of domestic science.
We have received a parting message from our President, and we are ready to strive for further development and prosperity of Kazakhstan!
We wish to the staff of the Institute prosperity and success, new scientific discoveries for the well-being of Kazakhstan.
https://www.akorda.kz/ru/glava-gosudarstva-posetil-biofarmacevticheskiy-zavod-immunobiologicheskih-preparatov-otarbiopfarm-495832