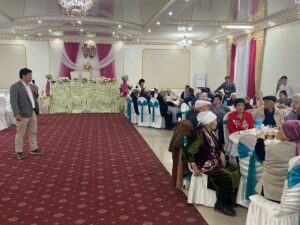 On the occasion of the International Day of Elderly – October 1, in the village of Gvardeyskiy of the Otar rural district of the Korday district of the Zhambyl region, a festive table and programs were organized for the elderly and veterans of the  district.
The festive event was held with the participation of the management of the Research Institute for Biological Safety Pproblems, the administration of the village of Otar, the management of the military garrison "Gvardeysky" and the deputy of the Korday district maslikhat Burashev Yerbol Dosanovich.
During the holiday, special gifts were presented to the elderly and veterans, concert programs were organized, congratulations and warm wishes were sounded. The veterans thanked the organizers and thanked them for their respect. At the end of the holiday, memorable photos were captured  and blessings of our elderly were received.
As our people used to say, old people are the treasures of the people, and we are a people who always respect the elderly!
Your work will be continued by your students. We express our gratitude to our veterans and elderly people who are actively involved in the future of the country and the education of young people, we wish them good health, happiness and prosperity in the circle of family, grandchildren and great-grandchildren! May your life's paths be long, and may the blessings and fruits of your labors reach you!