The quality management division is a structural subdivision of RIBSP and is directly subordinate to the head of the department of quality and the general director. The activities of the quality management department are aimed at ensuring the quality of the Institute's scientific products, their compliance with national and international standards and consumer expectations, as well as other types of services for:
implementation of the Quality Policy;

implementation of the principles of QMS;

ensuring the development, implementation and maintenance of the processes of a quality management system (QMS);

ensuring work on the management of the QMS processes in accordance with the matrix of responsibility distribution by the QMS.
In its functioning, the division is guided by:
Charter of the Enterprise;

international, national standards;

orders and instructions, valid in RIBSP;

approved work plan;

requirements of the standards ST RK ISO 9001-2016, ST RK ISO / IEC 17025-2018;

internal labor regulations;

collective agreement of RIBSP
The main functions of the quality management division are:
Organization of work on the participation of the Institute in national and international competitions in the field of quality;

Development of documents necessary for the activities of the Institute, including for the quality management system;

Implementation of the implementation and successful functioning of the quality management system;

Organization and conduct of an internal audit of the quality management system;

Preparation of a report on the results of the audit with the preparation and issuance of sheets of non-compliance;

Implementation of the normative control of documents of the Institute's quality management system, the provisions of units, job descriptions and job instructions of units in accordance with GOST standards;

Conducting corrective actions based on the results of audits;

Development of new regulatory documents in the field of management of the quality management system and normative control;
In 2010, Research Institute for Biological Safety Problems developed, documented, implemented and maintained a quality management system, and its effectiveness was constantly improved in accordance with the requirements of ST RK ISO 9001-2009. Annually, planned internal and external audits of the quality system are carried out.
In May 2018, the quality management system was recertified to the requirements of ST RK ISO 9001-2016.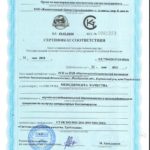 Preparatory work is underway to implement international standards of good scientific and laboratory practice (Good Manufacturing Practice).
In 2013, the testing laboratory for Control of technology and biological products was accredited in accordance with ST RK ISO / IEC 17025-2007 "General requirements for the competence of testing and calibration laboratories".