As part of the celebration of the 30th anniversary of Kazakhstan's independence, on December 14, 2021, an international scientific and practical conference "Modern challenges for biotechnology, veterinary medicine and medicine during the COVID-19 pandemic" was held at the RSE "Research Institute of Biological Safety Problems" of the Science Committee of the Ministry of Education and Science of the Republic of Kazakhstan. And the grand opening of the sports and recreation complex also took place.
The event was held with the participation of specially invited guests, scientists and employees of the Institute.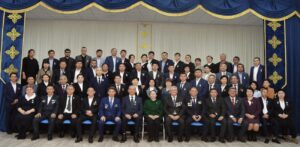 At the opening of the conference, the Deputy General Director of Science and Commercialization of RIBSP, Doctor of Veterinary Sciences, Professor E.O. Abduraimov addressed to the participants with a welcoming speech.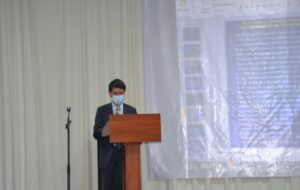 Also, Deputy Akim of Kordai district Eldos Mendekeyev expressed his congratulations, highly appreciated the activities of our institute and wished new creative successes.
The conference participants presented their scientific reports. The conference was attended by our distinguished leading scientists, chief researchers, candidates of veterinary Sciences, professors Zh. Kydyrbayev and M. Mambetaliev. Scientists of the Institute made reports on "Development of inactivated vaccines against avian influenza" and "The general state and prospects of development of the collection of microorganisms of the RIBSP SC MES KZ".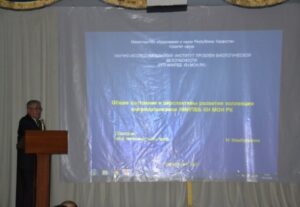 Also, the head of the laboratory of "Especially dangerous infectious diseases", Doctor of Veterinary Sciences, Professor L.B. Kutumbetov made reports on the topic: "Domestic vaccine against coronavirus infection COVID-19" and the head of the laboratory "Phytosanitary safety", Candidate of Agricultural Sciences, Professor A.S. Rsaliev – "Scientific foundations of phytosanitary safety in the Republic of Kazakhstan". At the end of their speeches, the conference participants congratulated on the 30th anniversary of Kazakhstan's Independence, by wishing to the institute and our country prosperity and success.
General Director of the Institute K. Zakarya in her speech emphasized that «We see positive economic changes in Kazakhstan, this is a real success. Over the years of Independence, having overcome all difficulties, the country has reached a new level of development and reached new heights."
The General Director of the Institute in a solemn ceremony presented high state awards and diplomas of the Institute in honor of the 30th anniversary of Independence of the Republic of Kazakhstan.
The well-deserved honors awarded with state awards "Enbek yeri", "Halyk algysy", certificates of honor, letters of thanks from the Institute and the trade union organization raised the spirits of scientists and employees of our institute.
Dear our scientists and employees, we wish you good health and inexhaustible energy. May there be many great achievements and victories filled with new scientific and industrial discoveries for the benefit of our institute in the future!